Cluster Tool for R&D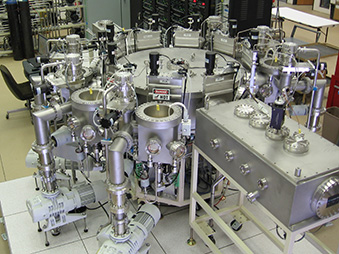 Cluster tools eliminate cross-contamination in multi-layer thin film structures and allow the production of high-quality electronic devices. Each MVSystems module as described below is controlled independently allowing simultaneous deposition in all chambers.
Vacuum: Ultra-high vacuum (UHV).
Substrate size: 10cmx10cm or 15.6cmx15.6cm.
Modules:
PECVD: RF, VHF and pulsed (modulated) RF plasma.
HWCVD.
ALD.
Sputtering (ITO, AZO, ZnON, metals, etc) with oscillation.
Laser crystallization.
Rapid thermal annealing.
Park station with heating capability
Isolation and Transfer Zone (ITZ) with robotic arm (8 or 10 port locations)
Load lock with the following options:

single substrate capability.
connection to glove box.
multi-substrate capability.

In-situ characterization module
Control: Computer controlled with easy to use HMI and optional data logging.
Systems guarantees are defined in the contract and include*:
Base pressure on each chamber
Temperature calibration
Uniformity and opto-electronic properties for each material defined in the contract
Functionality of all systems
* These are demonstrated during the Factory (or First) acceptance test (FAT) and Site (or Second) Acceptance Tests (SAT)